Trans Chat @ URNotAlone
URNA Chat and Profiles
URNA chat and profiles have been restored from our old database! Membership data will be activated instantly upon your login. You will be able to log into the URNA chat platform using your existing member credentials. We have both adult and non-adult trans chats now so please select the appropriate chat for your needs, or join both!

We are providing URNA Friends (G-rated) Chat which is designed for transgender peer support and community friends. While community allies and admirers may join this chat, it is not appropriate for admirers seeking dates or for naughty photo sharing.

We also offer URNA Adult Chat which is more appropriate for dating or chat and photo sharing of adult nature. You may sign into either support or adult chat, or both, using your existing login information. Upon your first login, you will be asked to review and update your profile information.
Transgender Friends and Support Chat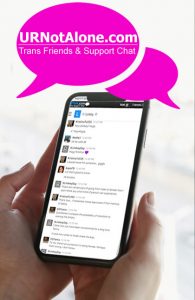 Transgender friends and support chat is available 24/7 at URNotAlone.com. This free non-adult support chat platform is designed for transsexuals, crossdressers, transgender people, trans community allies and anyone exploring the transgender spectrum. We now also have an adult chat option available. See below.
URNA trans chats are totally inclusive. We welcome male to female, female to male, pre-op, post-op, non-op, transgender, transsexuals, crossdressers, transvestites, nonbinary, intersex, androgynous, straight, gay, bisexual, pansexual, metrosexual, genetic males, genetic females, significant others and friends. The chat rooms are very friendly. Please come in and make new friends.
Trans Adult Chat
Trans adult chat is now available at URNotAlone.com. This free adult trans chat platform is designed for transsexuals, crossdressers, transgender people and trans admirers. This is the best chat if you're looking for hookups, cybersex or to share adult images. URNA adult trans chat is also inclusive so come in and make some new friends.
Webmasters: Free Transgender Chat Software!
Free transgender chat community for your website
Transgender webmasters may obtain free trans chat software from ChatChecks.com, the provider of our URNA chat communities. Join our transgender chat network! Provide added value for your website visitors and keep them coming back to your site each time they want to log in and chat with their trans community friends. The transgender chat community also features photo profiles, private messaging, internal emails, galleries, photo sharing, message forums, and blogs and it is 100% free for webmasters. No special coding is necessary. Set up your transgender chat community in minutes, and it is hosted and maintained free of charge.
Free transgender chat that pays you!
Transgender chat members are shown ads, that may be of interest to them, inside the members area. Targeted ads enhance the user experience and convert well within the transgender chat niche without detracting from the chat community flow. Chat Checks webmasters receive 50% lifetime commission for all advertising revenue generated from their referrals. Chat Checks also pays 5% lifetime recurring commissions for any webmaster friends you refer to the network.
Free transgender content for your site!
One more value-added bonus of the Chat Checks Affiliate Program is content for your website. Affiliate webmasters may add member profiles, galleries and blogs directly on their website via API feed. This is a great way to add content, get extra search engine visibility and create an interactive experience for your visitors.