Saffy – Member of the Month
Saffy White is the URNA Member of the Month for March 2022! Saffy is an active member in transgender chat and has posted 160+ photos. Saffy is a 31 years old from the UK who has been dressing since age 8 or 9 and began transitioning around age 20. Some of you may know Saffy from our sister site TGGuide.com where she joined as SaffyW. We appreciate Saffy's participation on the site and we think you'll agree she is a great representative for the transgender community.
Saffy White Bio
Chat Username: Saffy
Name: Saffy White
Gender: Trans Woman
Location: Leicester, England, GB
Height: 5'10" / 177.8 cm
Age: 31
Eyes: Blue/Gray
Hair: Brunette
Profession: Market Events Organiser
Relationship Status: In a committed relationship
Number of photos in your profile: 160+
Chat Profile Link: Saffy – Adult Trans Chat Profile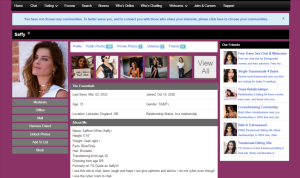 Saffy – March 2022 Member of the Month Interview
URNA: Tell us a little about yourself
Saffy: I'm delighted to be Member of the month for March. Thank you for considering me. Firstly I am in a relationship and have been since December 2016. We have been living together for just over 3 years and getting through the last 2 years has made our bond even stronger.
---
URNA: What is your Favorite quote?
Saffy: My favourite quote is from Oscar Wilde, 'Always forgive your enemies; nothing annoys them so much.'
---
URNA: Your profile mentions that you are a "Massive Bowie fan". Bowie was a ground-breaking artist who dared to blur gender lines at a time when it wasn't a popular thing to do. He is widely recognized as an important figure in the LGBTQ+ community. What is/are your favorite song(s) and is there something special about David Bowie for you?
Saffy: I've been a Bowie fan since I was very young. Both my parents were and are huge fans and I used to play all their vinyl albums and CDs and always loved Bowie. My love of his music and vision still persists to this day. I love most of his work but if I had to pick 3 albums they would be Hunky Dory, Heroes and Black Star.  Favourite tracks: Life on Mars?, Joe the Lion, Sound and Vision and a recently released track on the lost album Toy called Shadow man. His vision was so far ahead of time.
---
URNA: What do you like to do for fun?
Saffy: I love walking especially in the Lake District here in the UK when I can. I adore shopping and am lucky enough to get plenty of free products and discounts from business clients. I'm also a Leicester City Football Club fan and go to watch a few times every season. I am a Formula 1 fan too.
---
URNA: If you could go back in time, what advice would you give your 10-year-old self?
Saffy: My advice to my 10-year-old self would be to carry on as you were. My life has turned out pretty great and I think I was truthful and honest enough with myself, my friends and my family to achieve the transition I have had.
---
URNA: What advice would you give other trans women who are just beginning their gender journey?
Saffy: Advice to others just beginning their journey would be to be brave, be considered and seek as much professional advice as possible. And don't listen to the advice from the unqualified. A little knowledge is often worse than none at all. Most of all embrace your new life.
---
URNA: What advice would you give male trans admirers?
Saffy: Be thoughtful, especially if your date has recently started HRT. Be attentive and be natural. As with most women, a compliment here and there goes a long way.
---
URNA: Is there anything else you would like to add?
Saffy: I would just like to add that I have met so many great people since joining the site about 4 or 5 years ago. So ignore the trolls and the ignorant that will inevitably use any site and embrace the nice, kind and good people here.
Best wishes, Saffy White
Saffy White URNA Miss March 2022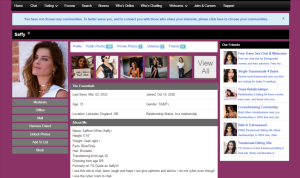 Feel free to leave a comment for Saffy below and then go to trans chat where you can get to know her better. See Saffy's profile link for trans adult chat listed in her bio.
---
COPYRIGHT NOTICE: Photos of Saffy are subject to copyright protection. These member photos are used here with express permission for viewing on this page only. No other use is permitted without the consent of the owner.