Tara Carolina – Member of the Month
Tara Carolina is the URNA Member of the Month for February 2022! Tara is a Southern Belle from South Carolina. Lovely and charming, Tara is always willing to chat with a trans sister. She is an active member of URNA chat and has posted over 30 photos. Tara has struggled with her gender identity, like so many of us, but she ultimately found a path to acceptance of her feminine self. Her story is inspiring and the reason for her Member of the Month recognition. Read through our interview with Tara below.
Tara Carolina Bio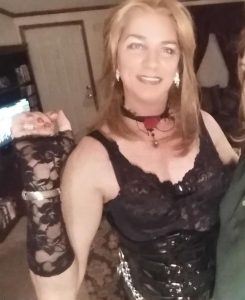 Chat Username: TaraMadelyn / TaraCarolina
First Name: Tara
Gender: M2F Trans Woman
Location: South Carolina
Height: 5'9″ / 175.26 cm
Weight: 165 pounds / 74.84 kg
Relationship Status: Single
Number of photos in chat profile: 30+
Chat Profile Links:
TaraMadelyn – profile in Trans Support Chat
TaraMadelyn – profile in Trans Adult Chat
TaraCarolina – profile in Trans Adult Chat
Tara Carolina – February 2022 Member of the Month Interview
URNA: How long have you been a URNA member?
Tara Carolina: I first joined URNotalone in February 2017.
---
"Life is in chapters, I embrace Tara and all that I am."
URNA: Tell us a little about yourself.
Tara Carolina: From such a gentle age of 6, I began to have the feelings of being a girl. It was so difficult growing up to just roll with what I saw in the mirror at the time and also the societal norms as I grew up, all alone in how I felt inside. I felt so afraid, cried a lot, and wondered why? There was nowhere to go for any answers. So, I dolled up in secret all of my life till I went to-Southern Comfort Conference and while there, along with then-wife, to the seminars and met so many transwomen face-to-face. Wow, all the answers I sought all my life were all there. Looking back on my life at that time, I could see it was always there. Most of my life was so difficult with all of this inside of me but now I fully embrace it. Now, life is great and I wish I had seen it all much earlier. But life is in chapters, I embrace Tara and all that I am.
---
Tara Carolina Trans Chat Profile Photos
 
URNA: What is your Favorite quote?
Tara Carolina: "An honest woman's pillow is her peace of mind".  Also "This Train Doesn't Stop There Anymore."
---
URNA: What do you like to do for fun?
Tara Carolina: Oh, playing guitar and singing, or playing in bands. But before covid hit, I liked the clubs and karaoke, lol. Love oil painting on canvas. Love rides on a sunny day through the mountains. Helping some people that I know build big decks with all kinds of designs. I loved those times that I went to Southern Comfort Conference for those 5 years. Love the clubs and meeting other transwomen for fun, joy and laughter or to share all that we feel we have learned from our own lives. To give and take/receive from those experiences with hopes to have helped others like me to fully embrace.
---
URNA: If you could go back in time, what advice would you give your 10-year-old self?
Tara Carolina: Well Tara, you're young innocent and unknowing. Always seek answers and truth. Remember you can never learn too much. Also remember, not everyone you know is your friend, allow for trust to come all in good time. Never make any rash decisions in the midst of anger. That "Respect" begets respect.
And don't ever get married, ha ha!
---
Tara Carolina Trans Chat Profile Photos

---
URNA: What advice would you give other trans women who are just beginning their gender journey?
Tara Carolina: To go and to attend the TG Trans events. Talk to many transwomen there. Go to the seminars they have there that are held by other lifelong transwomen. Don't try to understand trans all alone. At first, join the many trans online sites and talk to those that are trans. Remember that the sisterhood is all-embracing.
---
URNA: What advice do you have for passing as female in public?
Tara Carolina: What we need to do is dress to blend in and not to be overdressed for where we are going. One thing that I always noticed at the events, was some would carry those long strap pocketbooks like men carry a small toolbox. With the bottom barely off the ground, my advice is to hold it by the body and close to our side or under the arm. If it has long straps, then over the shoulder again with the body just under the arm. Take shorter steps and put a pleasant, happy face on.
---
URNA: Where else can people follow or get to know you better?
Tara Carolina: 
---
URNA: Is there anything else we should know about you, Tara?
Tara Carolina: Well, let's see, I nowadays do cherish the days and time so much more than when I was younger, I notice as the years have gone by, I don't like to be in a hurry, lol. Unlike the days when I thought we were set in our ways, I've realized that we're always evolving in so many thought processes. Always changing, like finding joy in simpler things for instance, or to see that less is more. There was a time that I feared living alone, but now, I love it and wouldn't change that at all. But as mentioned before, for me, "respect" means everything.
Thanks to everyone that read all of this.
Tara Carolina
The Last of The Southern Belles.
---
Tara Carolina URNA Miss February 2022

Feel free to leave a comment for Tara Carolina below and then go to trans chat where you can get to know her better. See Tara's profile links for both trans support chat and trans adult chat listed in her bio.
---
COPYRIGHT NOTICE: Photos of TaraMadelyn and TaraCarolina are subject to copyright protection. These member photos are used here with express permission for viewing on this page only. No other use is permitted without the consent of the owner.