Tara – Member of the Month
Tara – Trans Chat Member of the Month for November 2022: We're pleased to be featuring Tara as the URNA Member of the Month for November 2022. Tara is a 20 year old transgender (male to female) member from England. She describes her personal style as a "quirky soft goth." Tara has had no procedures or hormone replacement therapy. She is single and enjoys private messaging with other trans chat members. She has uploaded 80+ photos to her chat profile.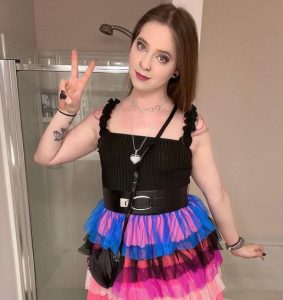 Tara's Trans Chat Bio
Chat Username: Tara
Gender: Trans (M2F)
Age: 20
Location: Reading, England
Height: 5 ft. 6 in. /167.64 cm
Relationship Status: Single
Number of photos in your profile: 80+
Trans chat profile: https://transadult.urnotalone.com/profile/Tara
Tara – Member of the Month Interview
URNA: When did you begin using the name Tara?
Tara: My chat username is also the name I have gone by since I was 14 years old and just beginning to find my feminine self which is 'Tara'. When I was younger I used to sit with my mum and dad and watch films, my mum's favourite was 'Gone with the wind'. I loved the name Scarlet but chose Tara as it seemed softer (yes I know it was the name of her home). That film was the beginning of my fascination with USA history.
---
URNA: How long have you been a trans chat member?
Tara: I joined adult chat in February 2022 and my usage varies, sometimes daily other times only once per week depending on circumstances.
---
URNA: What are your favorite activities in trans chat?
Tara: I do like many of the users and get on well with them. I must admit that I use the cyber room when the mood takes me, I am only human, and I private message quite a lot. Sometimes I use the lobby but often stay quiet as I don't really fit into the girlie category of many users.
Tara's Trans Chat Profile Photos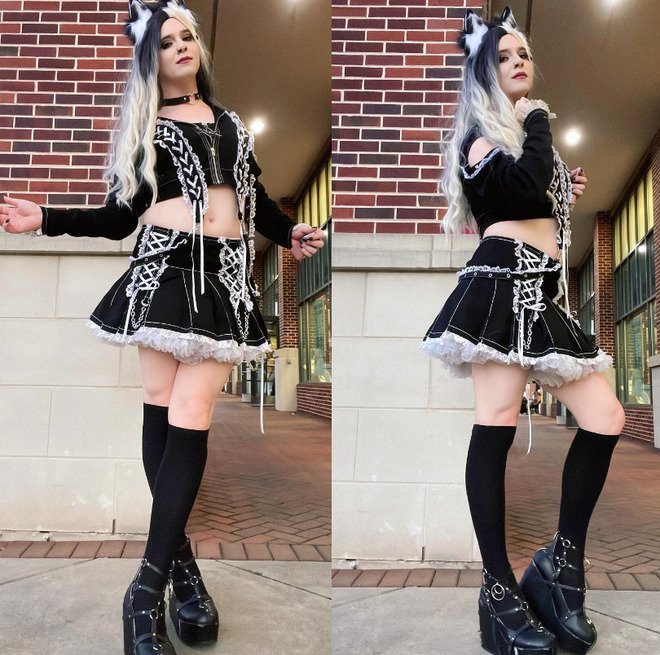 ---
URNA: You have a unique, fluid style. How would you describe your personal sense of clothing and style?
Tara: I class my style as quirky soft goth and like to wear clothes to be noticed in. I especially like fishnets (ripped) and net tutu-like skirts. Black and pink are my favourite colours. I do like heavy jewelry and heavy make-up too.
---
URNA: Will you tell us a little bit about yourself?
Tara: I describe myself as a transgender girl or woman as I am Tara 100% of the time but having had no procedures and not on blockers or HRT.  I was born and live in Reading, UK and I am 5'6″ tall and totally single although there are a few regular guys I see.
---
URNA: Did you find acceptance in any of the subcultures such as goth or punk as you were exploring your gender identity?
Tara: When I was in my teens I mixed with a lot of like-thinking people my age and slightly older and dressing as a girl never really phased any of them. The clothing and our presentation was a reflection of our characters and I was always accepted. My older brother who isn't at all like me. He's tall and sports mad and I'm short and not sporty in any way. They are my best friends though.
---
Tara's Trans Chat Profile Photos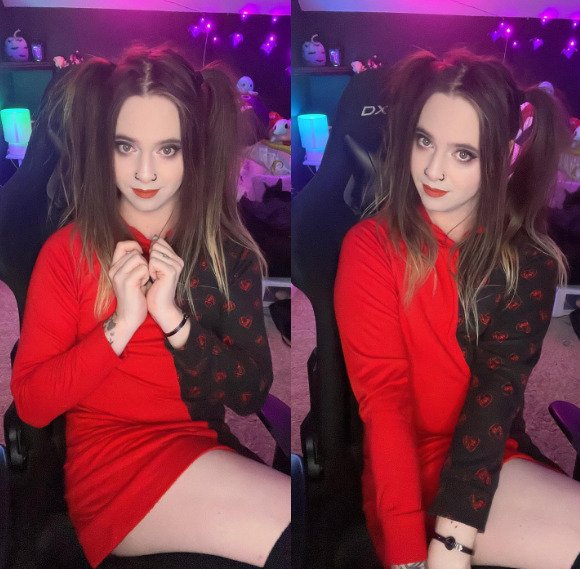 ---
URNA: Our visitors want to know more about you. You'll have a chance to elaborate later but may I give you some rapid-fire questions… what are your favorites?
Tara: Sure! During the covid lock down I listened to a lot of music, especially from my parents and grandparents, and watched a lot of films.
Favorite Movie:
Tara: 'Gone With The Wind'. Also, 'In The Heat Of The Night', 'Pulp Fiction', and 'Kill Bill'.
Favorite Television Show:
Tara: My favourite TV show has to be Modern family.
Favorite Song:
Tara: My favourite bands are 'Wolf Alice' and 'My Chemical Romance'. My favourite song is by 'Variety Lab' titled 'London in the Rain'. My favourite album is by 'Echo and the Bunnymen' titled 'Heaven Up Here'. It could be classed as the beginnings of Goth, along with 'The Cure'.
Favorite Food:
Tara: My favourite food is Caprese salad or Chicken chow mien, quite a difference. Love chocolate too.
Favorite thing about being trans:
Tara: My favourite thing about being trans is being able to be myself and be confident that I'm showing the real me.
Favorite thing to do on a Saturday night:
Tara: My favourite Saturday night is hanging with friends, either in pubs or clubs or just watching movies and listening to music. I also like standing in open fields at night when the moon is out and the wind blowing (weird or what!).
---
Tara's Trans Chat Profile Photos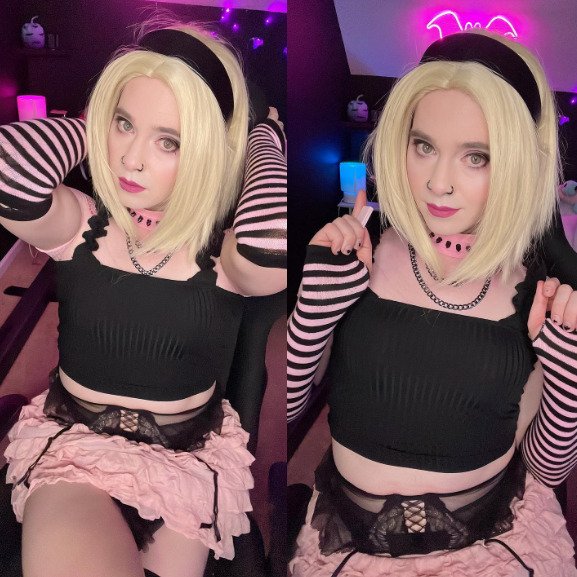 ---
URNA: What advice do you have for living authentically in a world that isn't always accepting?
Tara: I'm kinda young to be giving advice but I would encourage anyone to explore their feelings, their desires and their kinks/fetishes. Most of us have them. If the world isn't accepting don't feel you need to change for others. Many judge us but have their own secrets and kinks. Just smile and be nice.
Tara's Trans Chat Profile Photos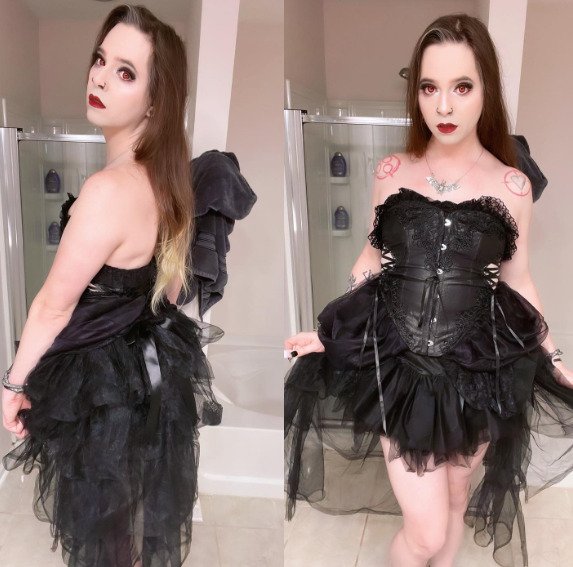 ---
URNA: Is there anything else we should know about you?
Tara: I'm quite outgoing and confident, I like male attention, especially older men, love to flirt and watch them look LOL and I know that I'm a girl/woman from birth until the grave. Hit me up when I'm in chat.
---
Tara – URNA Miss November 2022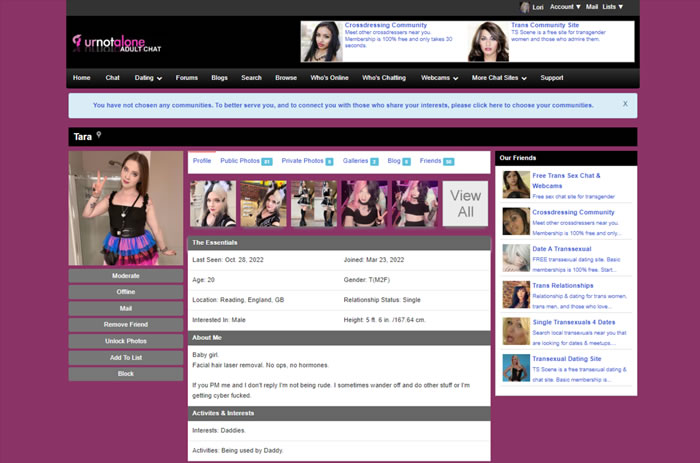 Feel free to leave a comment for Tara below and then go to URNA adult trans chat where you can get to know her better. See Tara's profile in trans adult chat.
---
COPYRIGHT NOTICE: Photos of Tara are subject to copyright protection. These member photos are used here with express permission for viewing on this page only. No other use is permitted without the consent of the owner.