KrisSodapop – May Member of the Month
KrisSodapop is the URNA Member of the Month for May 2022! Kris is 51 years old, from Los Angeles, California. She is a long-time member of URNotAlone.  Kris came out in 2003 with the help and support of friends at URNotAlone. A line in her profile caught our eye, "this site saved my life." Naturally, we had to know more. The result was a remarkable conversation about Kris's journey to acceptance and her experience with a teenage transgender daughter who came out in 2021.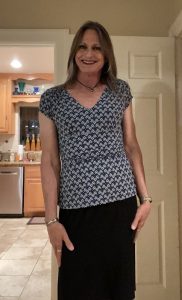 KrisSodapop's Bio
Chat Username: Kris Sodapop
Name: Kris
Age: 51
Gender: Trans (M2F)
Location: Los Angeles, CA
Height: 6'/ 182.88 cm
Eyes: Blue
Hair: Brunette
Profession: Film Production
Relationship Status: Ethical Non-Monogamous
Number of photos in your profile: 30
Chat Profile Link: KrisSodapop – Adult Trans Chat Profile
KrisSodapop – May 2022 Member of the Month Interview
URNA: Tell us a little about yourself
KrisSodapop: I grew up in North San Diego County surfing, skateboarding, playing baseball, and soccer, and spending almost every day of the summer at the beach. I grew up on punk rock and anything rebellious. I questioned the norms and religion and why people try to keep you in a "box." I have always been into anything involving art, unique people and equality regardless of any situation. I have always rooted for the underdog.
At age 19 I discovered I love to travel and started running around this beautiful planet. I always gravitated to the alternative and artsy areas of the places I visited. I ended up moving to Los Angeles in my 20s and got into set decoration in film production. I have had that as my career for 30 years.
I have learned a lot by being trans, and I have watched changes in the community. I have always known that, when I am out and about as myself, I represent a community that has been judged for a very long time. So, I try to represent the TG community in a good light. I have a 13-year-old daughter (born in 2008) who was born my son and started transitioning in January of 2022. I had hidden my trans side from her until the Spring of 2021 when she came out to me after displaying femininity her whole life. So now she is my daughter and I am Mom2! (Mom, too!). It is a life I never dreamed of. My daughter is just like me, except she is free to be herself. I was unable to be that free growing up in the time I did. My journey has led me into a spiritual life that is unlimited and amazing.
---
URNA: What is your favorite quote?
KrisSodapop: "I Never Vote For Anybody. I Always Vote Against."  W.C. Fields (Only because I have too many favorite quotes)
---
KrisSodapop Trans Chat Profile Photos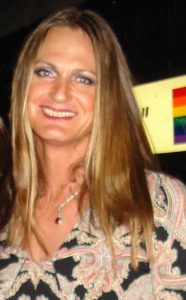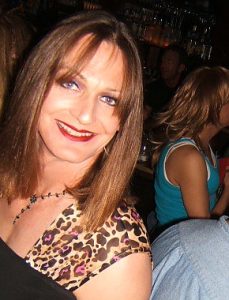 ---
URNA: What are your favorite activities in URNA trans chat?
KrisSodapop: My primary reason for chatting at URNotalone is to support, and give back. But making friends and flirting is always fun.
---
URNA: What do you like to do for fun?
KrisSodapop: Traveling, surfing, bodysurfing and the beach. Cooking, dining, shopping, spending time with friends. Parties and family get-togethers. Music, live music, music shopping, listening to music. Hiking, and the outdoors. Art of all kinds. Bizarre and unique people. Oh, and can I say "sex" here? Sex. And seeking spirituality in everything.
---
KrisSodapop Trans Chat Profile Photos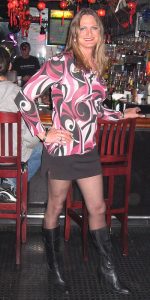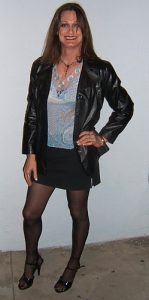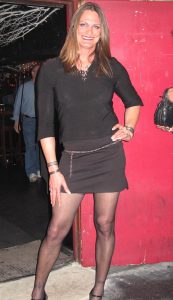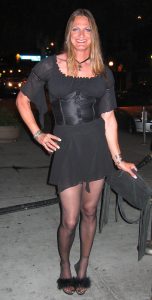 URNA: When did you first begin cross-dressing?
KrisSodapop: My "slutty" cousin came over when she was 16. My sisters were 3 and 5. I was 4 at the time. My cousin said, "Let's play dress up!" All of us were dolled up and were presented to the adults like a fashion show. I was last to walk out. It was the best I had ever felt up to that point in my life. When my father saw me he said, "What did you do to my son? Take him out of that right now!" And then he spanked me telling me to never dress like a girl again.
At age 13 I started joining my sisters in the bathroom putting on makeup and trying on their clothes. When my older brother saw me, he beat me up. This happened quite a few times until I just started locking the door to the bathroom and dolling up for maybe only 20 minutes at a time. Always with the fear of being beaten for it.
---
URNA: If you could go back in time, what advice would you give your 10-year-old self?
KrisSodapop: Share your true self with someone you know you can trust and who loves you. It's hard to do anything completely alone when feelings are involved. Discover your truth and live it, regardless.
---
URNA: You mention in your profile that this site saved your life? I'd love to hear more about that.
KrisSodapop: I had been closeted since age 14. Anytime I could dress up, I would. At age 38 I bought my first house and lived alone. I began dressing every day when I got home from work and was dressed most of the weekends. I had a girlfriend at the time but I wasn't inviting her over. I had purged many times over the years driving my dumpsters and throwing away boxes of wardrobe and shoes and toys swearing to never dress again. After all, I was a weirdo, freak, outcast, right?
When I realized how much I was loving living alone and isolating myself to be my true self I decided to search for a way to stop on the internet. I did a search for "How to stop crossdressing". URNAlone came up and I went there. This was about 2003.
I entered the chat room and watched what was being said. I finally chimed in with, "I am living with this burden of being a crossdresser. How do I stop crossdressing?" The responses I got blew me away. I was told I have a gift, not a burden. That it will never go away. That it is a part of me and I should learn to accept myself and love myself. And there were gurls in the room who encouraged me to get a profile, post a picture and start living my truth. There were gurls that got me to walk to my mailbox and check the mail when I was terrified to ever be seen. Gurls that told me to get in my car and drive to the store, get out and at least walk into a gay bar. They loved me through my fear, my self-loathing. They helped me find self-acceptance and courage to live my life for me, not what I feared others thought.
So, yes, I found the first doors to freedom here at URNAlone.
---
URNA: I imagine things were more difficult back when you were first dealing with your gender identity, such as a lack of information and understanding. What changes have you seen for transgender folks during your lifetime?
KrisSodapop: Since the internet, I have seen people be able to search for communities and support online and in person. I have seen equality grow for all gender aspects. When I was younger I was disowned by my father and beat up by my brother. I mentioned my daughter is trans (mtf, the apple doesn't fall far from the tree, lol). Her school has resources for all gender identities. My daughter has loving and supportive parents. And I have watched TG clubs close because trans people are more accepted almost everywhere now, with rights to back them up.
---
URNA: What advice would you give other trans women who are just beginning their gender journey?
KrisSodapop: Reach out to seek support. Online is a great place to start. Here, URNotAlone is supportive. Accept yourself, love yourself, and know it's ok to make mistakes. Learn to laugh at yourself. Find others you can talk about yourself with. And, for heaven's sake, make sure those heels are not only sexy but comfy as well… very important.
---
KrisSodapop Trans Chat Profile Photos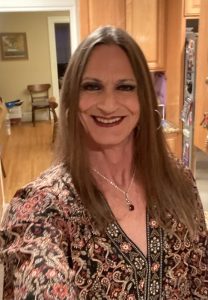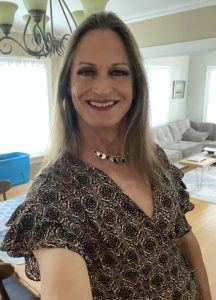 URNA: What advice would you give male trans admirers?
KrisSodapop: Call me. Lol….kidding (kinda). Honey, we are human beings just like you. We all need love and respect. Though we are sexual beings, that is not all we are. Be nice to us. Be yourself.
---
URNA: Is there anything else you would like to let our visitors know about you?
KrisSodapop: So, in summary. I came out in 2003. I blew the doors off the closet thanks to the support of URNAlone gurls.
I supported TG venues at least 5 nights a week and got very involved and made lots of friends. I slowly came out to everyone until I stopped trying to hide my trans side. I was out to everyone and married a woman that accepts and supports me. We had a son in 2008 and I put my TG side away to become the proper role model. My son was just like me and is now transitioning into my daughter. I came out to her and now I am able to live my life again.
My wife says we are now a house full of women, lol. Life is truly amazing.
---
URNA: Do you have other social media pages or websites where people may get to know you better?
KrisSodapop: More photos at KrissySodapop at Flickr
KrisSodapop URNA Miss May 2022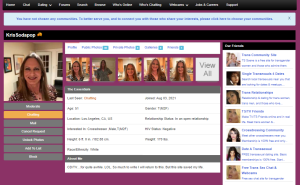 Feel free to leave a comment for KrisSodapop below and then go to trans chat where you can get to know her better. See KrisSodapop's profile link for trans adult chat listed in her bio.
---
COPYRIGHT NOTICE: Photos of KrisSodapop are subject to copyright protection. These member photos are used here with express permission for viewing on this page only. No other use is permitted without the consent of the owner.